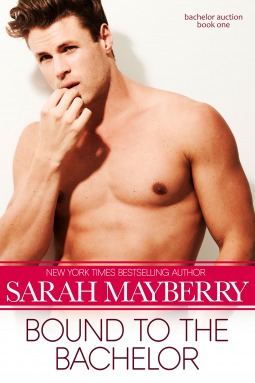 When her godson Josh suffers a horrific injury and her best friend Molly finds herself in financial need,
Lily Taylor decides she needs to do something. Short on cash, but big on ideas she organizes a Bachelor Auction and recruits every single hot guy, wells some get volunteered.
Beau Bennett always has this animosity towards his sister's best friend Lily. It's not so much that he dislikes her, it's that he likes her, but he doesn't want a relationship, so the best thing to do is to avoid her.
Lily knows Beau won't be thrilled to do the auction, but she twists his arm and recruits him anyway. When a blast from the past makes its presence in Lily's present and she inherits $10,000 of what she considers dirty money, she ends up debating how to rid herself of the money and ends up bidding on Beau.
Beau is shocked that Lily bid that much on him, but as they get to know each other a little better Beau realizes he wants a forever with Lily.
The story was sweet and Lily was an incredible character; she's strong, determined and can take care of herself. Her story was so sad and yet she still turns out a great person.
As for Beau, he was your typical guy, but still a descent guy. The back and forth between him and Lily made for a fun and enjoyable read.
Rating 5 out of 5
Read@Book
Check Out The Entire Series
Montana Born Bachelor Auction Series
Bound to the Bachelor (Montana Born Bachelor Auction #1) by Sarah Mayberry
Bachelor at her Bidding (Montana Born Bachelor Auction #2) by Kate Hardy
The Bachelor's Baby (Montana Born Bachelor Auction #3) by Dani Collins
What a Bachelor Needs (Montana Born Bachelor Auction #4) by Kelly Hunter
In Bed with the Bachelor (Montana Born Bachelor Auction #5) by Megan Crane
One Night with her Bachelor (Montana Born Bachelor Auction #6) by Kat Latham