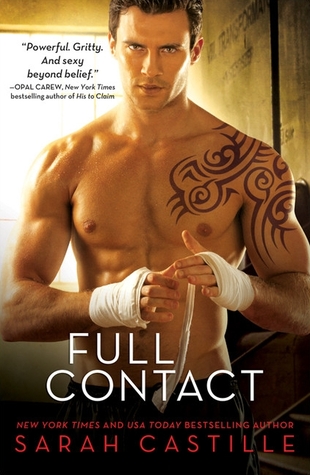 About Full Contact:
Ray wraps his arms around me and holds me tight as if something terrible has happened and he doesn't want to let me go.
Full Contact. This is how Ray speaks when his emotions overwhelm him. I melt into his stillness. His body is hot and hard, his breath warm on my neck. He smells of leather and sweat, sex and sin. Nothing can tear me away.
When you can't resist the one person who could destroy you…
Sia O'Donnell can't help but push the limits. She secretly attends every underground MMA fight featuring The Predator, the undisputed champion. When he stalks his prey in the ring, Sia is mesmerized. He is dominant and dangerous and every instinct tells her to run.
Every beautiful thing Ray "The Predator" touches he knows he'll eventually destroy. Soft, sweet and innocent, Sia is the light to Ray's darkness-and completely irresistible. From the moment he lays eyes on her, he knows he's going to have to put his dark past behind him to win her body and soul.
Get your print copy at:
Amazon US
|
Amazon UK
|
Barnes & Noble
|
Chapters Indigo
|
Book Depository
|
Books-A-Million
|
IndieBound
Download your ebook: Kindle | Nook | iTunes | Google Play
_________________________________________________________________________
What did I think?
This story was WOW! It was intense and dramatic and the characters were really something. Although it's book three in the series, it is a stand alone and follows Ray "The Predator" Black (by the way we don't learn his last name until almost the end of the book) and Sia O'Donnell. Ray is super mysterious, think James Bond but with tattoos and Sia is your good girl gone rocker/goth; both characters have their traumas and are a bit around the edges, but together they make each other better.
The supporting characters were great, I loved Jess, she was an awesome best friend; however, Sia's older brother Tag really got on my nerves, way too overprotective.
So, why a four and not a five? Well, they constantly hit that Ray may be a CIA agent but we never know for real and we get a secondary romance (take a guess, I did mention them) and we don't get enough details (I'm expecting either a book or a supplemental novella) to quench us. Those were my only issues, Sia as a character was incredible, she does have her self doubts but you see her grow as a person. You'll definitely enjoy this one, plus the fight scenes are super cool; come on ladies, guys aren't the only one that love a little MMA action.
Rating 4 out of 5


Read@Book
_________________________________________________________________________
Full Contact, the third standalone book in the Redemption fighter romance series
by NYT and USA Today Bestselling Author Sarah Castille is now on sale!
"Castille continues to introduce characters who are both intense and vulnerable. The females are more than a match for the men in their lives, and these guys are worth their efforts."
--RT Book Reviews on FULL CONTACT
Castille's follow-up to the excellent Against the Ropes doesn't pull its punches."—starred review and Best Summer Book, Publishers Weekly on IN YOUR CORNER
"Fifty Shades of Grey meets Fight Club."
--RT Book Reviews on AGAINST THE ROPES
_________________________________________________________________________
EXCERPT: Consumed by fire (Words 467)
My gaze drifts below his belt, to the bulge in his jeans. He is fully erect, his shaft straining against his fly. A naughty thrill of excitement shoots through my veins. He's aroused because of me.
"Um...do you want to take a break before I apply the stencil?"
He shakes his head, then leans forward and sweeps his hand through my hair, letting the strands slide through his fingers. A sigh escapes my lips as delicious sensations sweep through my body. I am on fire. And although I've been with men before, I've never been immobilized by a single touch.
"So soft." He runs his hand over my hair again, this time trailing his fingers along my shoulder. His thumb glides over my throat and he curls his hand around my neck. "So fucking delicate."
I am burning. Consumed by fire. A burst of need drives a whimper up my throat, and I choke it back as his thumb circles the sensitive hollow at the base of my neck. Firm. Unyielding. Dominant. With one squeeze, he could break me. The way I was broken before. The way he broke the butterfly. And yet nothing could tear me away from this moment.
"Sia." He says my name softly, drawing out the last syllable in a gravelly murmur, almost like a prayer.
My brain fuzzes with lust, and I surrender to the thrill of his touch, the pounding of my pulse in my veins, the desire that has haunted me since I first saw him in the ring. My head falls back, my lips part, and I drown in the depths of an azure sea.
With a low groan, Ray turns sideways in the chair, dropping his legs to the floor. With his hand still cupped around my neck, he pulls me between his legs, the casters on my stool squeaking in gentle protest. I circle my arms around his neck and my breasts rub against his bare chest. The press of his erection against my stomach sends a rush of moisture to my sex.
"Jesus Christ." His voice drops husky and low. "You're killing me."
He leans down and sweeps my hair behind my shoulder, then nuzzles my neck. Sensation sears through my body and I tilt my head to the side to give him better access. So unprofessional. What if Slim comes out? Overcome with the fulfillment of a year's worth of longing, I can't bring myself to care.
He feathers kisses over my cheek and I lick my lips in anticipation. This is really happening. He's going to kiss me again. A real hands-on- the-body Predator kiss.
A bell tinkles behind me. Damn front door. Damn customers who come after hours. I'm not turning around. I want my kiss.
Ray glances up and stiffens. "Holy shit."
EXCERPT: I don't want to lose you (Words 585)
Ray grabs my wrists and pins them to the mat over my head, his body angled over me. My breath catches in my throat, and I steel myself for the memories, the black rush, the heart-pounding fear, but it doesn't come. Instead, a red haze settles over my vision, and I press my lips together and buck my hips, throwing him slightly forward.
Bad plan. Now his groin is only inches away from my face. He's still wearing his jeans, which means that bulge isn't a cup.
"Ray..."
His face softens. "I hurt you."
"Yes, you hurt me. Keeping secrets hurts me. It makes me feel like you don't respect me. And it makes me feel like I can't trust you. So maybe you could return to your proper seat now. Tray table up."
He shifts down, settling his weight over my hips, but he doesn't release my hands. "I hurt you. Means you care."
I swallow hard and meet his gaze. "You hurting me means I was being stupid. Things were going where I didn't want them to go. Now I've had a wake-up call. You have secrets you can't share. You need to protect your secrets. I need to be with someone I can trust, and I need to stand on my own two feet. It's just not going to work between us."
His gaze darkens, searing me to the core. "You want to be done? Or are you scared and trying to push me away?"
The air shifts between us, electrifying, tightening my nipples and heating my blood. I am hyperaware of his thighs tucked against my hips, carrying most of his weight as he sits astride me in a dominant MMA position. My wrists, hot under his palms, press against the cool mat, restrained in a way I could never have imagined allowing them to be restrained. My chest rises and falls twice for every one of Ray's breaths, and my core tightens. The innuendo isn't lost on me. God, yes. I want to be done in the carnal sense of the word. But only by Ray. And I don't really want to let him go.
"I don't want to lose you."
Ray's hands tighten on my wrists, and he leans down and brushes a kiss over my lips. "I don't want to lose you either, but I live in a dangerous world. I've got stuff in my life that would make your head spin. I need to protect you from that, and I'll do what it takes to keep you safe, even if it means you hate me for it, because for the first time in my life, I want something more than doing my duty. I want a life and I want you in it. I've got one bad guy to catch and then I'm free. And after I'm done and after what went down this evening, you'll never have to worry about being safe again."
Finally, he releases my hands but I don't move. Heat sweeps through my belly. I feel both vulnerable and curiously safe lying beneath him. My gaze shifts from his intense gaze to his sensual lips, and my breasts swell, remembering the touch of his hands, the gentle press of his lips. He wants me. Not just today, but tomorrow and the tomorrow after that.
"You make it sound like I don't have a choice about being with you."
"You don't." He leans down and kisses me with a savage fierceness that takes my breath away.
_________________________________________________________________________
About Sarah Castille:
New York Times and USA Today bestselling author, Sarah Castille, writes contemporary erotic romance and romantic suspense featuring blazingly hot alpha males and the women who tame them. A recovering lawyer and caffeine addict, she worked and traveled abroad before trading in her briefcase and stilettos for a handful of magic beans and a home in shadow of the Rocky Mountains.
Sarah loves to connect with readers. Sign up for her newsletter to hear about new releases:
http://bit.ly/LgFZlb
Connect with her at:
Website: http://www.sarahcastille.com
Facebook: http://www.facebook.com/sarahcastilleauthor
Twitter: http://www.twitter.com/sarah_castille
Goodreads: http://www.goodreads.com/author/show/6920675.Sarah_Castille
Pinterest: http://www.pinterest.com/scastilleauthor